JAB Quad Featured at Chick-fil-A Peach Bowl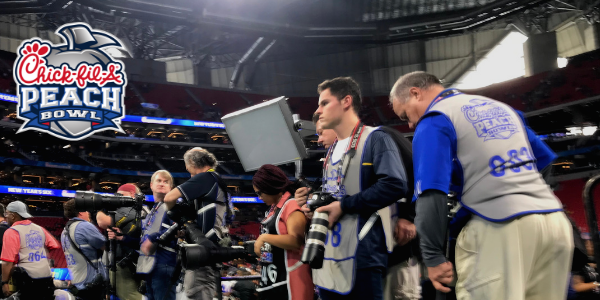 Southeast Staging has been providing rolling turf stages and media risers for sporting events for over 10 years. Global Lighting and Productions, Inc- a sister company of Southeast Staging, Inc was onsite at the 2018 Chick-fil-A Bowl game in Atlanta, Georgia for the matchup between the Florida Gators and the Michigan Wolverines.
The JAB Quad made its debut onto the field during the Trophy Presentation after the Gators defeated the Wolverines.
The JAB Quad is AAdynTech's most powerful LED soft light in its class, consuming only 1,300 watts of power and outputting an amazing 120,000 lumens. The fixture, control box, and connecting cable are rated IP65, meaning the light is weatherproof under the most extreme climates. With a CRI of over 92, the jAB Quad creates a beautiful, even field of light as well.
Like all AAdynTech products, the Quad is designed and manufactured in the United States by Sturdy Corporation, guaranteeing quality and dependable service.