AAdynTech Lights The Major League Fishing Championship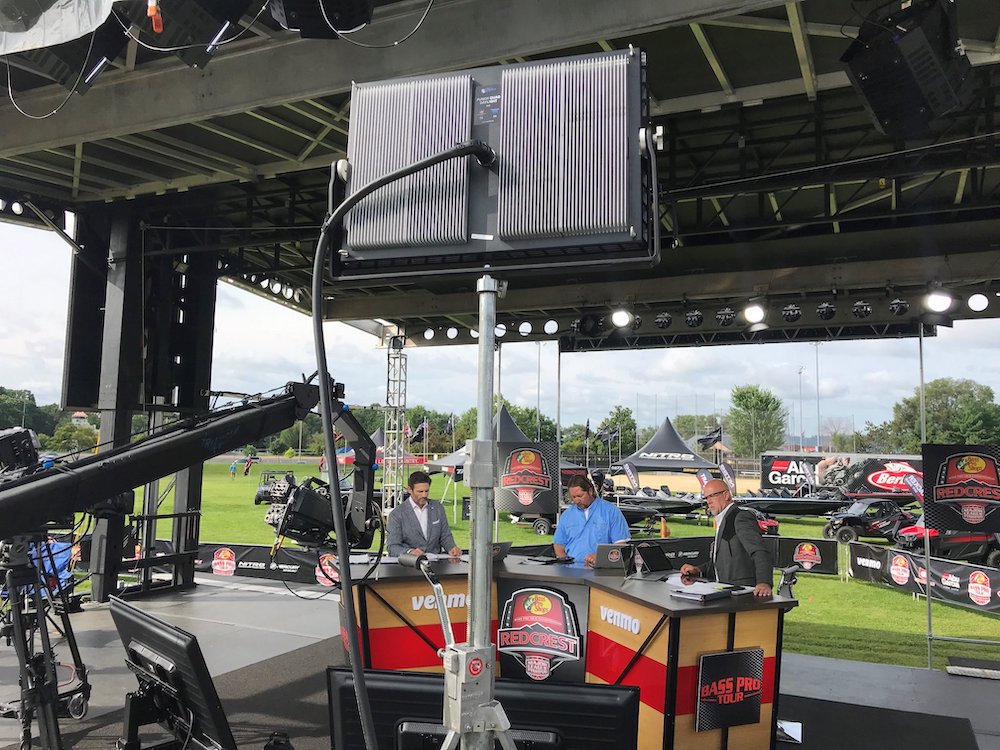 AAdynTech Lighting was proud to be set, lighting coverage for the Major League Fishing Bass Pro Tour Championship in Redcrest, Wisconsin. Blindsight Digital used several fixtures in the AAdynTech family to light the stage, including:
5 Punch Daylights

The AAdynTech Punch Daylight is the most powerful daylight-balanced white light professional LED fixture available today. The fixture delivers an incredible output of 7,454 fc @ 10 feet, while consuming less than 5 amps of power. The Punch Daylight is self-contained with a universal power supply and, unlike traditional HMI's, the need for heavy and expensive head cables, ballasts or spare lamps is eliminated, dramatically reducing transport weight.

Crew and talent safety is always a concern and the Punch Daylight generates so little heat and can be held with bare hands, and harmful UV or IR emissions are virtually eliminated. Instant 'ON' ensures no warm-up wait time on set. The Punch Daylight DMX can either be wired or wireless with a built in Wireless DMX/RDM receiver.

4 JAB Daylights

The JAB Daylight LED fixture in AAdynTech's JAB Series lineup is one of the most sought after lighting fixtures on the market for good reason. Whether for Broadcast ENG remote field production, fixed studio installation, live sports coverage, video shoots or film, the JAB Daylight provides a wealth of practical benefits and features ideally suited to a wide range of lighting applications.

Weighing in at only 19 lbs., its small compact footprint allows for ease of transport for on-the-go lighting assignments. An unmatched output of better than 2,758 foot-candles at 10 ft. combined with a maximum current draw of a mere 1.77 amps at full brightness means savings up to 90% A/C energy usage. If that weren't enough; the fixture can be operated on 28.8v DC battery power for instances where conventional A/C supply is problematic or non-existent.

1 Punch Quad Daylight


AAdynTech's Punch Quad is the most powerful LED soft light in it's class, consuming only 2,600 watts of power and outputting an amazing 285,000 lumens. The fixture, control box and connecting cable are rated IP65; weatherproof under any condition.

With a CRI of over 92, the Punch Quad creates a beautiful, even field of light in Daylight, Tungsten, or a Variable version that adjusts anywhere from 2800 Kelvin to 6000 Kelvin. Additionally, it has the capability of adding green or magenta to match any other white light fixture.