AAdynTech by Sturdy Shines at NAB Show with Exciting New Lighting Solutions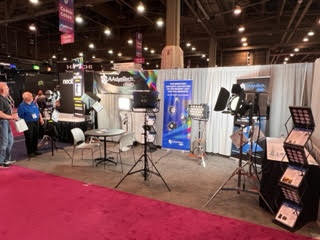 We are thrilled to announce that AAdynTech by Sturdy recently attended the prestigious NAB Show, showcasing our cutting-edge lighting solutions to a global audience! Among our innovative products, we featured the new Spectral fixture and the powerful Punch Daylight & Jab Daylight G5 series.
Our team at AAdynTech is committed to pushing the boundaries of lighting technology, and we couldn't be more excited about the positive response to our new products. We would like to extend our heartfelt thanks to everyone who visited our booth at the NAB Show, and we look forward to continuing to serve our valued customers with state-of-the-art lighting solutions that elevate your creative vision. Stay tuned for more updates on our product launches and future events!