4 Ways to Keep Fleet Drivers Safe This Winter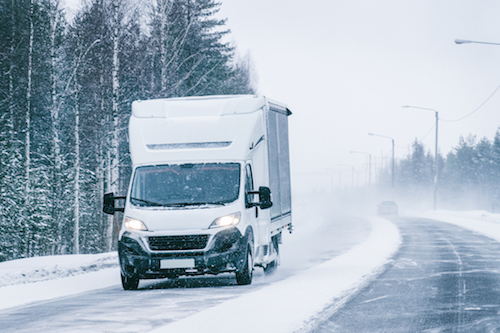 It is no surprise that winter weather can bring hazardous road conditions for fleets and their drivers. According to the Federal Highway Administration (FHA), nearly one-fourth of all weather-related vehicle accidents are a result of snowfall, slush, or sleet, taking more than 1,300 lives and injuring over 116,000 per year.
While mother nature may be out of our control, there are steps you can take as a fleet manager to help prepare your drivers for such safety challenges and ensure they have control this winter season.
Prepare and Plan
Plan ahead for the winter season by reviewing your safety policies and emergency plans with all fleet drivers. Review expectations with your drivers during daily huddles or during their daily vehicle audits and remind them to always remain vigilant on safety even on the coldest of days. Cleaning mirrors and headlights, checking the quality of wiper blades, removing snow and ice, filling the gas tank, checking tire pressure and ensuring the emergency kit is replenished should all be completed in the daily vehicle inspection.
Reduce Traveling Speed
Traveling at reduced speeds will allow fleet drivers to improve vehicle stop time and increase response time while also allowing for greater control over the vehicle wheel. With Sturdy Automotive's Vehicle Management System hardware (VMS), fleet managers are able to set a fixed top speed limit to ensure drivers are not able to exceed a pre-selected maximum speed.
Increase Following Distance
The typical rule of thumb is to maintain at least a two-second following distance between you and the driver ahead of you. As an organization built upon its dedication to safety, we advise fleets to use a three to four-second following distance, especially during the winter season and when carrying cargo that weighs down vehicles. Increasing the following distance will allow fleet drivers more time to react and avoid potentially dangerous situations. With the Sturdy Telematics Dashboard powered by Air Max Remote, fleet managers are able to access meaningful data regarding driver behavior, such as following distance, giving them valuable insights to make improvements upon.
Practice Skid Safety
One of the most dangerous driving hazards to impact fleets during the winter season are skids. Skids are more likely to occur on curvy roads and turns and when drivers are traveling at high speeds. Fleet managers should remind their drivers to turn into a skid, never steering away, and to avoid using their breaks. Additionally, drivers should always be on high alert for black ice and should not assume that if the sun is out, there is no risk of hitting a deadly patch. Sturdy's VMS with Speed IQ product offers a variable speed limiting functionality, which will automatically adjust the maximum speed based upon the location and speed zone the vehicle is traveling within, reducing skids and improving safety.
As your fleet prepares for the winter season, remind them of these guiding principles to ensure their safety as well as other passengers on the road. Sturdy Automotive provides the industry's leading fleet management solutions, allowing fleets of all sizes to control, track, and analyze fleet operations.
For more information on how you can improve fleet safety and return on investment, contact Sturdy Automotive!